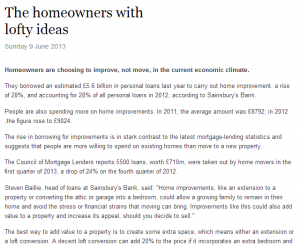 Reliable Crawley Plumbers Can Help Boost Property Value and Quality of Life Call Us Now 0791 7852384 Chris
The Herald Scotland reported early last June that a lot more British homeowners now opt for home improvements rather than bidding their current homes farewell. According to data gathered by a leading UK loan provider, homeowners spent an estimated total of £5.6 billion on home improvement projects in 2012. This figures represents an impressive increase of 28 percent from the previous year.
Exactly why more Britons are choosing to improve their homes rather than acquire new properties was not clearly established, although the Herald Scotland surmises this may be due to a wonky economy. Other homeowners can follow suit and consider enhancing the quality and function of choice areas in their current homes instead of acquiring available real estate in Crawley. For quality installation and repair of bathroom and plumbing fixtures, homeowners can tap the services of reputable Crawley plumbers.
Meanwhile, an industry expert observes that home improvements enable homeowners avoid the stress and financial strain typically associated with moving into a new home. Home additions or improvements are also suitable for penny-pinching homeowners who wish to save up for, say, a grand vacation or a new addition to the family. Homeowners can further conserve their resources if they decide to upgrade to eco-friendly plumbing fixtures with the help of skilled plumbers in Crawley—such as Drips & Drains Plumbing & Drainage Services.

As for homeowners who wish to put their homes up for sale in the near future, the same industry expert affirms that certain remodeling projects can help make homes more attractive to potential buyers. Home improvements, however, need not involve the construction of new rooms or features. Simply making one's home spic-and-span by attending to and cleaning drips, drains, and other fixtures can help tremendously.
Homeowners should also keep in mind that not all home improvement projects are guaranteed to increase property resale value. In any case, it is crucial to repair blocked drains as these can lead to inconvenient and unsanitary living conditions. Fortunately, Crawley residents can turn to reliable plumbers like Drips & Drains Plumbing & Drainage Services for timely and quality drain clearing.
As Crawley has dubbed "a town for the future", its residents certainly have very few reasons to consider relocating to other areas. To boost property value and enjoy better living conditions, homeowners can choose to carry out the appropriate renovations. In this regard, new and better plumbing fixtures in your kitchen or bathroom can definitely go a long way.  See more
Testimonials
Dyno-rod spent 2 hours on it with all kinds of machinery and eventually gave up and instead quoted £800 to put up scaffolding for outside access to unblock it from the other end. Chris unblocked it without any machinery and within 1 minute without outdoor access! Clearly Dyno-rod were not experienced enough. I'll keep Chris' contact just in case I need him again.

Customer in Bromley, 2 June 2012

Unblocked toilet/drain